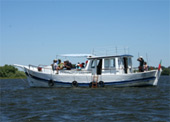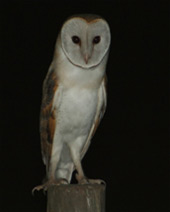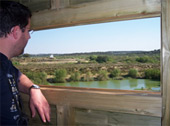 The "Ciência Viva no Verão 2010" filedtrips were held from June 15 to September 15. LabOr, through ICAAM – Institute of Mediterranean Agricultural and Environmental Sciences, joined the initiative Biology in Summer with three proposals in the field of ornithology.
On the 20 and 27 of July took place the action "At the Helm: Birds of the Tagus", with the collaboration of Ollem – River Tourism. Participants in this initiative "Ciência Viva no Verão 2010" had the opportunity to see a Tagus unknown to many, sailing in the company of ornithologists: birds had the lead role in the dissemination of ecological values of the region.
On the 7 and 14 of September the action "Antennas in the air: how to track owls" was held at Companhia das Lezírias. Participants were able to experience the different techniques used to detect the Barn Owl, and also could observe this species hunting, in a very close interaction with the TytoTagus project team (www.labor.uevora.pt).
Between 11 and 15 of September the action "Let's know the Goucha Marsh" took place in Alpiarça, integrated in the fair "Alpiagra". Participants visited the largest swamp forest of southern Iberia and got to know the characteristic flora and fauna of this site, recovered in the scope of the project RIPIDURABLE (www.ripidurable.eu).