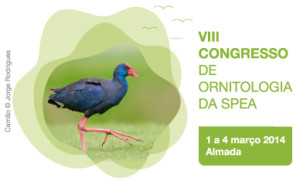 Between 1 and 4 March LabOr will present to the Portuguese scientific community 12 studies resulting from research projects, as well as master's and PhD thesis already completed and ongoing . The SPEA's VIII Congress of Ornithology will be held in Almada. Six oral communications will be presented focused on the following subjects:
scientific ringing as a tool for Bird Atlases
impacts on birds resulting from the construction of roads, railways and dams
the role of birds as bio-indicators of the state of conservation of montados
knowledge of the current situation of nocturnal birds in Portugal
There will also be presented six poster communications on:
ringing station at Herdade da Mitra (University of Évora)
owls : abundance and distribution , activity patterns, diet and ecotoxicology
inter-specific competition in passerines
The list of the abstracts will be available in this website after publication of the Proceedings of the Conference at Publications > Proceedings of Conferences and Scientific Meetings.